ST PATRICK TRAVELLED THROUGH CARRIGALLEN ON HIS ROUTE TO MAGH SLEACHT IN COUNTY CAVAN. Visit St. Patrick's Wells, The Church of Moy and Errew Graveyard.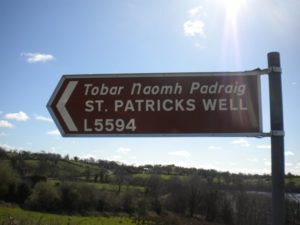 Carrigallen is a Patrician Parish or at least so it is reputed by those holding authoritive views on the question. John P. Dalton RIA in "Proceedings of the Royal Irish Academy" (vol. XXXVI, sec. C, No. 4), expresses the view that St. Patrick passed through this parish when journeying from Tara to Magh Sleaght and supports his argument by pointing out a line of Tobar-Patricks' which connects Granard and Carrigallen, (two of these wells are in Carrigallen parish), these wells we may take it were important halting places along the holy missionary route.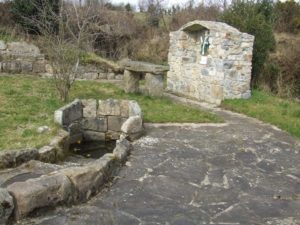 These notes are taken from the ITA General Survey of Co. Leitrim. They further state that St Patrick founded the Church of Moy, (Newtowngore), and on departing placed Bruscus, one of the first priests ordained in Breffni in charge of it.
The Church of Ireland graveyard in Newtowngore (8 Km), contains a ruins of an ancient church building. Tradition has it that this is one of St. Patrick's churches. It measures 40 feet long and 20 feet wide.
St. Patricks Well in Aughawillan (2 Km), is one of the wells referred to above, it was restored in 1999 with a path constructed etc. and is signposted from all approaches. The wart stone at the well is believed to have cured warts.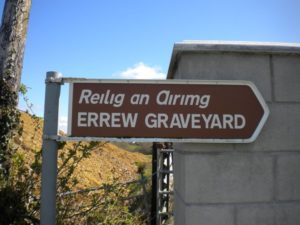 Errew Graveyard (4 Km), is an ancient burial ground and it is still used by catholics. Some of Tom Clarke's relatives are buried here, Margaret of New Orleans' sister Mary, soldiers from the Battle of Ballinamuck in 1798, all in unmarked graves. This graveyard is possibly a pre-christian burial ground and this has not been disputed by experts, yet.