James Clarke, British Soldier and son Tom, 1916 Freedom Fighter
James Clarke fought for the British and his son, Thomas James fought against them.
Thomas James Clarke, widely regarded as the most single-minded of the 1916 leadership, was buried at Arbour Hill prison cemetery. His father, James Clarke was born in Errew, Carrigallen in 1830 on a four-acre plot of land close to Gulladoo Lake. The family was Protestant and were called Clerkin at that time. He left home to find work and a short time later in the year 1847 enlisted in the British army. He fought in the Crimean war in 1854 and survived it, where thousands perished, and returned to Clonmel barracks two years later. James met Mary Palmer, a catholic, from Clogheen and they married in 1857.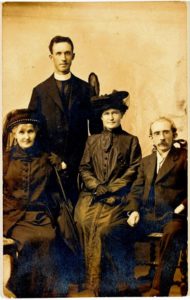 Their first child, a boy, was born a year later in the Isle of Wight and they baptised him a catholic- Thomas James Clarke. After duty in South Africa and promotion, James and family returned to Ireland, this time to Dungannon after the birth of their second child, Maria Jane. Two more children were born in Dungannon, Hanna and Albert. James Clarke, soldier no. 694 claimed his discharge from army service on 26th December 1868 at age 39 years.
Tom Clarke was described as a 'bright boy', he got a good primary education in Dungannon and at 16 he was made an assistant teacher under the monitorship system. He became immersed in fenian activity after periods of civil unrest in the town of Dungannon and joined up after the national organiser John Daly visited there in 1878. In 1882 he emigrated to the United States where he joined Clann na Gael and attended bomb-making classes. Within a year he was sent to England on a dynamiting mission, he assumed the name of Henry Wilson, was arrested in possession of explosives and was sentenced to penal servitude for life. He served over 15 years in British jails at Millbank, Chatam and Portland. Clarke emerged from prison on the 29th of September 1898 a very changed man physically, stooped and aged, but as committed as ever to the Fenian cause.
He was accepted into the US again and worked as assistant editor with the republican John Devoy on his newspaper, the Gaelic American. Tom married Kathleen Daly from Limerick in 1901 in New York and later they bought a farm in Manorville, Long Island and he became a naturalised US citizen in 1905. However, Tom and Kathleen and their first son Daly who was now five, returned to Ireland and Tom bought a tobacconist shop at 55 Amiens Street, Dublin. They had three sons, Daly named after Kathleen's uncle John Daly, Tom junior and Emmet, the youngest. Another shop was acquired in Parnell Street which became a focal point for IRB activity. Sean MacDiarmada was assisted by Clarke in revitalizing the Irish Republican Brotherhood from the shop in Parnell Street, which was under constant watch by the police.
Tom Clarke was a key figure in the decision to organise a rebellion during the European war. He later joined the Military Council of the IRB that operated secretly in its planning of the Rising. Clarke was also a vital link between the rebels and Devoy's Clan Na Gael organisation in New York, a connection that was used to arrange the landing of German arms in Ireland. Even when the weapons were intercepted, Clarke was determined to carry on and reluctantly agreed to defer the Rising by a day. All through Easter Week, Clarke, whose name appears first on the Proclamation served in the GPO along with most of the other members of the Provisional Government. He opposed the surrender but was outnumbered. Following his arrest he was court-martialled in Richmond Barracks on 2nd May and was one of the first three rebel leaders executed by firing squad the following day 3rd May 1916, at Kilmainham Jail. Thomas James Clarke, widely regarded as the most single-minded of the 1916 leadership, was buried at Arbour Hill prison cemetery.
As part of the local contribution to the centenary celebrations 1916-2016, a play was produced by the Corn Mill Theatre, Carrigallen to celebrate Leitrim's connection with the Easter rising. Tom Clarke's One True Love was written by local actor and playwright Killian McGuinness and directed by Gus Hanley of the Backstage Theatre Group, Longford. It stars four of the Corn Mill actors, Killian McGuinness, Maura Farrelly, Elizabeth Doonan and Brian Murray.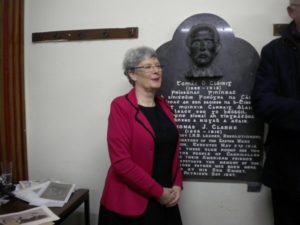 A bust of Tom Clarke was unveiled by his son, Dr. Emmet Clarke on St. Patrick's Day, 1967 in the Tom Clarke Rooms adjoining Carrigallen Community Centre. Dr Clarke travelled from Liverpool with his wife and two sons Emmet and Thomas for the ceremony. Prior to the ceremony the Minister for Justice, Mr Brian Lenihan inspected a guard of honour of the Mohill Company of the F.C.A. The National Flag was hoisted by Dr. Clarke and the proclamation was read by Mr Michael Duignan.